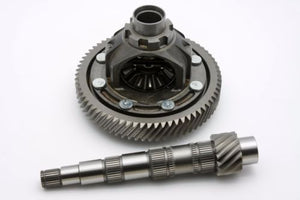 Volkswagen AG 02T Gearbox Crown Wheel & Pinion 15 / 68 Teeth (OEM Quality)
Regular price $401.00 Sale
VW, Audi, Seat & Skoda 5 Speed 02T Manual Gearbox Crown Wheel & Pinion

This crown wheel and pinion has 15 / 68 teeth which is a 0.221 ratio.

These parts have been produced to a high standard by an OEM manufacturer.


This kit contains the following parts -

1 x Crown wheel

1 x Pinion


Please feel free to contact us if you have any questions regarding this product.

If you are unsure if this will fit please send us the registration or the VIN number of your vehicle, we will then identify the correct parts.


Order number - ASAP24454
Reference OE/OEM Number: 02T 409 021


ASAP Gearbox Parts provides a friendly and efficient service. We have an extensive range of products at competitive prices, with next day delivery on many items.
More parts are available that are yet to be listed, please contact us if you cannot find the part you are looking for.