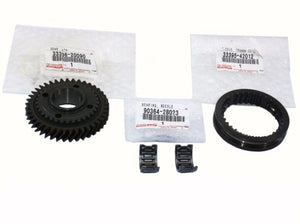 Toyota Corolla & Avensis 2.0ltr D-4D Genuine 5th Gear 42 Teeth Repair Kit
Regular price $258.00 Sale
This kit fits the following models -

Toyota Corolla 2.0 D-4D 5 speed manual gearboxes between 1999 > 2003 (Please be aware this gearbox has another variation and may take 41 teeth)

Toyota Avensis 2.0 D-4D 5 speed manual gearboxes between 2003 > 2008


This kit contains the following parts -

1 x 5th gear with 42 teeth - OE

1 x 5th gear internal split race needle bearing - OE

1 x 5th gear outer syncro hub sleeve - OE


This kit also comes with a tube of Bondit HA6 Silicone.


Please feel free to contact us if you have any questions regarding this product.

If you are unsure if this will fit please send us the registration or the VIN number of your vehicle, we will then identify the correct parts.


Order number - ASAP31746


ASAP Gearbox Parts provides a friendly and efficient service. We have an extensive range of products at competitive prices, with next day delivery on many items.
More parts are available that are yet to be listed, please contact us if you cannot find the part you are looking for.