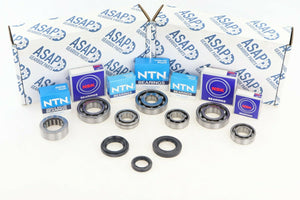 Honda Jazz 1.2 & 1.4 (GD) Gearbox Genuine Bearing & Seal Rebuild Kit 2002 - 2008
Regular price $235.00 Sale
This kit fits all Honda Jazz 1.2 & 1.4 models between 2002 - 2008.
If your Honda Jazz has GD in your VIN / Chassis number this is the correct kit for your gearbox.
This kit contains the following parts -
2 x Differential / Crown wheel bearings - NSK / Timken
2 x Laygear / Input shaft bearings - NTN
3 x Diff pinion / Mainshaft bearings - NTN / SKF / Timken
2 x Differential / Driveshaft oil seals - OEM
1 x Front / Input oil seal - OEM
Please feel free to contact us if you have any questions regarding this product.

If you are unsure if this will fit please send us the registration or the VIN number of your vehicle, we will then identify the correct parts.