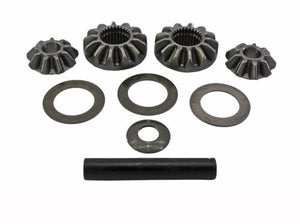 BMW 1 & 3 Series Type 168 Rear Differential Planet Gear Kit
Regular price $218.00 Sale
BMW 1 series & 3 series Type 168 rear differential planet gear kit for years 2004 onwards


To tell if your differential is a Type 168 please count the number of bolts holding the rear cover to the diff housing, there should be 7 bolts.

Alternatively you can use the RealOEM website and enter your vehicle details. Click on the axle icon and then click on the final drive gasket set icon. Number 1 will either be Type 168 or Type 188.

If your rear cover takes 8 bolts you have a Type 188 differential fitted to your vehicle and these parts will not fit.


This kit contains the following parts -

2 x Small pinion gears

2 x Small pinion gear shims

2 x Large pinion gears

2 x Large pinion gear shims

1 x Cross pin


Please feel free to contact us if you have any questions regarding this product.

If you are unsure if this will fit please send us the registration or the VIN number of your vehicle, we will then identify the correct parts.

Order number ASAP24764

ASAP Gearbox Parts provides a friendly and efficient service. We have an extensive range of products at competitive prices, with next day delivery on many items.

More parts are available that are yet to be listed, please contact us if you cannot find the part you are looking for.